Canarian and national wines and other gourmet products
Dreaming of those unique flavors of Our Land
Exquisite gourmet products available to everyone
We offer a wide variety of products of the highest quality. Enjoy the traditional flavors of our islands or dare with new and sophisticated tastes that will cause wonderful sensations on your palate…
Visit us at our store, in La Orotava, or place an order online or by phone and receive it comfortably at your home.
Do you prefer Canarian wine or do you prefer national wine?​
In any case, among our selection of Canary and peninsular wines you will surely find what you are looking for. Do not miss them!
Wide range of Canarian wines
If you are looking for where to buy the best wines from the Islands, you have come to the right place! At Cuvée Enoteca you can find a wide selection of wines made on our islands.
Selection of Spanish wines
If you want to buy a national wine, you're in luck! because at Cuvée Enoteca we have made a selection to offer you variety and quality at the best price… Check our offer.
Get to know some of the Canarian wineries we work with
To give you an idea of the wines that you can find in our store, we have made a list of some of the Canarian wineries with which we work at Cuvée Enoteca.
Take a look at our
gift boxes
!
If you need to make a gift or want to surprise with an unexpected detail, surely one of our gift baskets is perfect. But if you don't find any that you love, don't worry! You can also set one up yourself…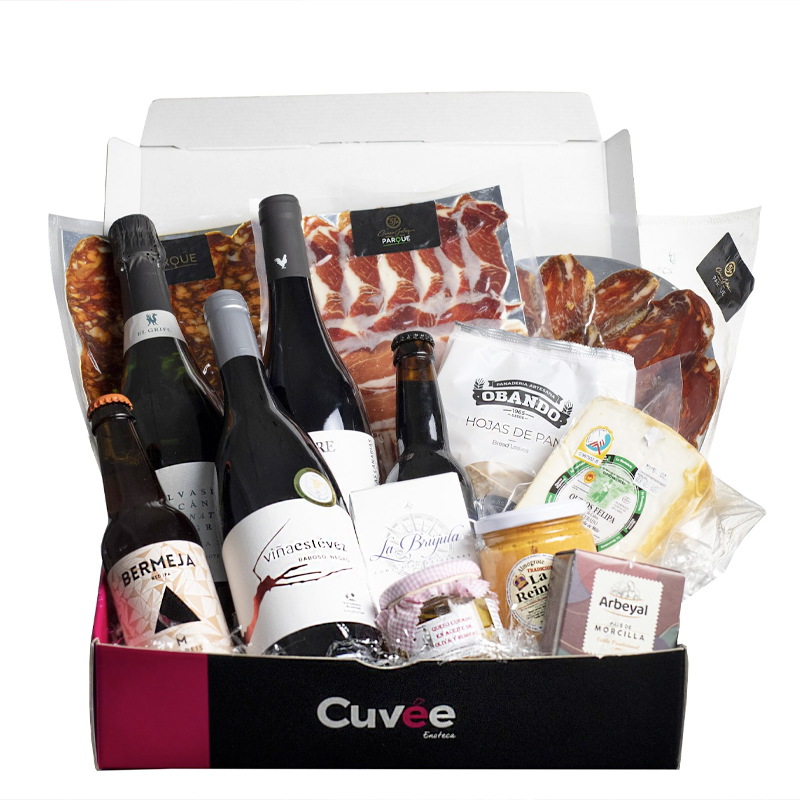 What other products do we have in our store?​
Eat artisan cheeses, different and unique. Cured, semi-cured, tender, smoked cheeses, etc.
Variety of Canarian mojos perfect to accompany cheeses and enrich other foods.
Delicious artisan jams, made with organic fruit and natural ingredients.
Sweeten your day and enjoy the flavor and aroma of a delicious toast with 100% natural honey.
Jamón Ibérico and sausages​
We have a wide variety of sausages of national origin of the best quality:
Jamón ibérico de bellota (Iberian ham).
Chorizo ibérico.
Lomo embuchado.
Paleta ibérica.
To lick your fingers!
Do you like bubbles? If you do, check out our sparkling wines, both Canarian and from mainland Spain.
Rums, gins, whiskey, vermouths...
Consult our offer of rum, whiskey, gin, vermouth and other premium or limited edition alcoholic beverages.
If you are a beer lover, you will not want to miss the collection of craft beers that we have prepared… Unique beers, with character and all the flavor of our Islands… You have to try them!
Have you tried the olive oils of our land? Extra virgin olive oils of supreme quality, which have been obtained, directly and through mechanical procedures, from olives.
Pates, spreads and preserved products​
Consult our variety of canned and preserves of the best quality.
Also, if you are a pate lover, you have to try them! We have wild boar, spider crab, Iberian pork, black olives, black pudding, smoked salmon…
You will get your snacking afternoons to rise to another level!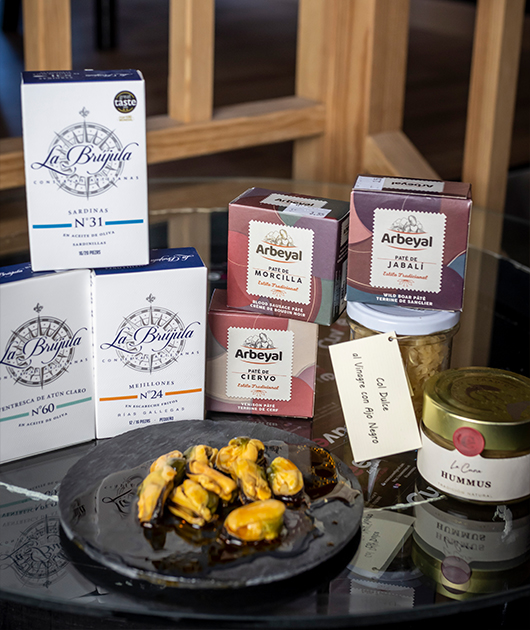 You'll love our pastry selection. It's as sweet as you are! Try the biscuits, cookies, donuts and many other delicacies that we bring for you.
Have you tried the handmade and organic pasta yet? What are you waiting for? There are many, with different and unique flavors, and they are delicious!
Do you want to know more about our products?​
Visit our store, at 9 Carrera del Escultor Estévez street in La Orotava, and see all the delicious things we have available… If you need more information or want to make a personalized order, do not hesitate to call us by phone. We can send you your order to any of the Islands!